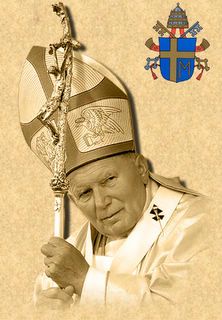 Pope John Paul II

WSJ- Peggy Noonan
: "All of this was summed up by a Polish publisher and intellectual named Jerzy Turowicz, who had known Karol Wojtyla when they were young men together, and who had gone on to be a supporter of Solidarity and member of Poland's first postcommunist government. Mr. Turowicz, remembering the Blonie field and the Pope's visit, told Ray Flynn, at the time U.S. ambassador to the Vatican, 'Historians say World War II ended in 1945. Maybe in the rest of the world, but not in Poland. They say communism fell in 1989. Not in Poland. World War II and communism both ended in Poland at the same time--in 1979, when John Paul II came home.'
And now he is dead. It is fitting and not at all surprising that Rome, to its shock, has been overwhelmed with millions of people come to see him for the last time. The line to view his body in St. Peter's stretched more than a mile.
His funeral tomorrow will be witnessed by an expected two billion people, the biggest television event in history.
And no one, in Poland or elsewhere, will be able to edit the tape to hide what is happening.
John Paul gave us what may be the transcendent public spiritual moment of the 20th century. 'We want God.' The greatest and most authentic cry of the human heart.
"